Are you getting a new computer?

Do the following before the old computer is removed:
Copy the folder at: c:\hls to either a USB drive or a network drive.
When you have the new computer running, copy the folder back to the same location on the new machine.
Follow these steps:

Use the following link to do the initial installation:
Full Installation
If you are running a Windows 7 or Windows 8 computer you may see some error messages along the way. This is because some of the files are already on your computer. Click 'ignore' and 'continue' and the installer will skip these files. Also ignore any message that says you don't have enough memory to install the program.
Be sure that you have copied your data (c:\hls) to the same location on this new machine before you continue. If you are not able to do this but have been using either the Simple Networking or Full Networking option, continue. Otherwise call 360-483-4550 to discuss other options.
Now use the following link to install the latest update:
latest update
Open the folder at: c:\hls\Honor Level System

Find the program file, it will be the one with the shortest name. You will see it as hls or hls.exe

Right click on this file and select 'Send to desktop as a shortcut'

You can then use the shortcut to launch the program.

If you were able to copy the data files to the new machine, the program should run just as it did before. If you see error messages, make sure that your privileges are not restricted any way in the c:\hls folder and all of its sub-directories.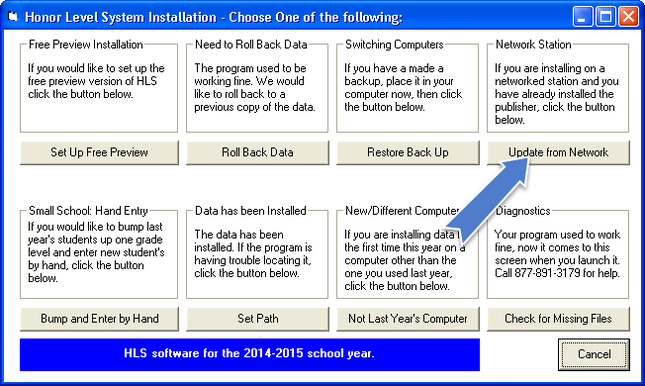 If you see the following window select: 'Update from Network' and then point the software to your shared network directory.

---